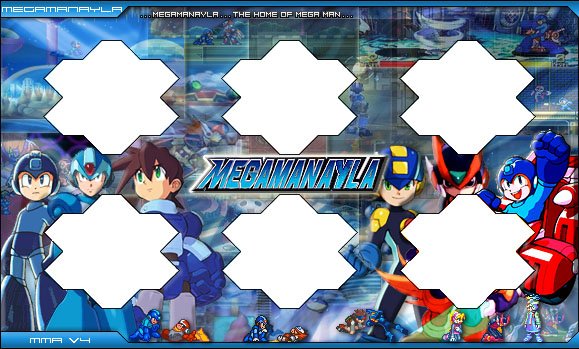 Mega Man PC Website @ www.interordi.com/mega_man_pc
October 29th, 2009:
"Some of the people who've been around for years might remember seeing that name around before. The site used to be live several years ago, before it was closed due to a lack of time and interest. It has recently made a comeback and is aiming to reclaim a spot among the top Mega Man websites available. Several updates have been done in the past weeks to bring it up to date on several fronts, and more is on the way. Many sections are still under reconstruction or unavailable, but the content already offered is worth a look. Check it out!"

Mega Man X9 @ www.megamanx9.com
October 26th, 2009:
"If you're a Mega Man vet you'll remember MegaManAyla from back in the early-mid 2000s. Sometime after that, the site went on hiatus... until now. Mety333 has asked me to affiliate with him to help revive the site, and of course I said yes... because I'm just a nice guy like that. MegaManAyla is now back and operational, and is being updated with all the newer games, information, etc. that has come out since the site was put on a hold. The site also has a very unique layout... go check it out!"

Saint Zero @ www.saintzero.com
October 21st, 2009:
"MegaManAyla is back after almost 4 years of being gone, check them out they have a nice layout."

Mega Man Millennium Forum @ www.mmxw.proboards.com
September 8, 2004:
"MegaManAyla is the best Mega Man web site to go to."

Mega Man Legends Station @ www.legends-station.com
August 23, 2004:
"Legends Station is happy to announce a new affiliation with another well known Mega Man web site, MegaManAyla! They have a variety of information and downloads for all the various series, on top of one of the most interesting and dynamic site designs I have ever seen. Be sure to pay them a visit! You can always find the link to MegaManAyla on the side bar to the left."

Irregular Network @ www.irregular-network.22web.net
May 04, 2008:
"I originally was a member of MegaManAyla Community which was abandoned by it's creator and a few selected members stayed in the forum and kept it alive but as there were nobody to administer the site it wasn't long before the community didn't have a place to be anymore so I decided to make this site and hopefully I'll see some old members from MMA in here."

MegaManAyla Members:
Mety333 - Founder
DarkCyntax - Still alive and kicking
apsyd - You made the best flash animations and you were knowledgeable with computers.
Jami - Your fan fiction's were awesome and I'll always remember the stories section.
RedNeo - The newest and last recruit in MMA. I never figured out which one of you were posting you or your brother since you used the same account.
Mettaur - The newest and last recruit in MMA. I never figured out which one of you were posting you or your brother since you used the same account.
IraqMan - You posted lots of drawings and fan fiction. Didn't get to read all fan fictions there were so many. When you first came to MMA your English was pretty bad but you learned pretty fast.
Bookman - Didn't get to know you very well since you were the king of the stories section and didn't post much to other topics but you seriously owned the stories section.
Venom - The bodybuilder and I bet you look like Arnold Swarchenegger in his better days by now.
Andy - a.k.a WonderAndy.
Geoff Mendico - Creator of very successful Mega Man community after MMA went belly up
etc. - And all those who I forgot to mention sorry.